12ft Trampoline With Enclosure

The 12ft Trampoline with Enclosure Package gives you complete peace of mind that everyone is safe while they play or exercise in one of our most popular sized trampolines. The 12ft Trampoline with Enclosure Package is a 4-piece set and includes:
12ft Trampoline
12ft Trampoline Safety Enclosure
Trampoline ladder
12ft Weather Cover
12ft Trampoline Specifications:
Maximum user weight: 100kg (approx. 16 stone)
Diameter: 12ft
Height: 35"
Plus!
5-year warranty on frame from failure due to rust
12 months guarantee on springs, padding & jumping mat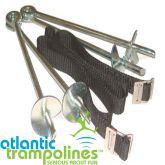 Anchor Kit

£28.80
More Info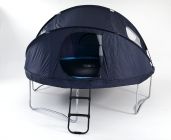 Please note: does not include trampoline

£186.00
More Info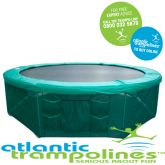 12ft Trampoline Skirt

£58.80
More Info
12ft Trampoline With Enclosure Product Specifications:
Huge 12' diameter 'Fun' trampoline (35" in height)
High weight loading, can take adults of up to 100kg (approx 16 stone)
Jumping mat made of A grade Permatron Polypropylene from the United States. UV resistant, sewn with heavy duty UV resistant thread and using galvanized v-rings
72 super strength 165mm zinc plated galvanized springs
Frame tubes - 42mm x 1.5mm (galvanized both inside and out)
Connecting tubes - 42mm x 1.5mm (galvanized both inside and out)
Leg tubes - 38.1mm x 1.5mm (galvanized both inside and out), 4 leg sets
21mm thick 260mm wide double thick weather resistant vinyl padding blue in colour
Closed cell foam that does not absorb water or mildew or lose shape
Black jumping mesh
Assembly instruction manual complete with spring assembly tool
Also Includes
12' mesh safety-net enclosure
Tubes 25mm x 1.5mm galvanized
Designed to retain the maximum jumping area
Pole sleeves are green in colour
The size of the Trampoline with Enclosure that you choose will depend on who will be using it, what it will be used for – will it be fun or fitness, how large your garden is. Atlantic Trampolines stock a wide range of Trampolines with Enclosures, so you will be sure to find the right one to suit your needs.
Safety & Certificates of the 10ft Trampoline with Enclosure Package:
EN-71 approved (British Safety)
RWTUV/GS approved (European Safety Certificate)
Cadmium testing passed
Instructions on how to assemble your 12ft trampoline are coming soon.
In the meantime, why not take a look at our
illustrated guides to trampoline assembly
.
How much space is needed for a 12ft trampoline?
Care is needed when siting your 12ft trampoline. You should ensure it is well away from over-head objects such as trees and telephone lines, which could obstruct someone bouncing on the trampoline. Our 12ft trampolines will usually need two people to lift them so pick a semi-permanent site for it if possible.
We recommend a gap around the trampoline of 2.5m, but if you have a trampoline safety enclosure for your 12ft trampoline you might reduce the gap to around 1m. We suggest you use your own judgement though. Take into account the objects around the trampoline and how energetically the trampoline will be used.
Please call us if you need further advice. Our team of experts are happy to answer any questions about siting and installing your trampoline. Call us on the Trampo-line 0800 032 5879 or +44 (0) 1646 62 22 11 from outside the UK.
The 12ft trampoline with enclosure is the most popular trampoline in our range. It is ideally suited for both young and older children, as well as their parents, where space for a larger trampoline than one of our 12ft trampolines is restricted.

All our 12ft trampolines come complete with an access ladder and trampoline weather cover. There is the option to buy 12ft trampoline by itself or with a safety enclosure. We also offer a 12ft trampoline ultimate set which has a trampoline enclosure plus a 12ft trampoline tent, a trampoline anchor kit and a shoe bag. The ultimate sets are available for all sizes in our range of garden trampolines and are very popular as they offer a considerable saving.

Our 12ft trampolines have 72 springs covered with a thick layer of padding contained withing a UV resistant vinyl cover. This is a much higher specification than most of our competitors����¯�¿�½���¯���¿���½������¯������¿������½����¯�¿�½���¯���¿���½����¯�¿�½������¯����¯�¿�½���¯���¿���½������¯������¿������½����¯�¿�½���¯���¿���½����¯�¿�½������¿����¯�¿�½���¯���¿���½������¯������¿������½����¯�¿�½���¯���¿���½����¯�¿�½������½ trampolines offer. As with all our garden trampolines the frame is assembled with our patented T joint which avoids the need for a welded frame, making the trampoline stronger and more durable.
We offer FREE next working day delivery (Mon-Fri) on orders recieved by midday to the mainland UK on most of our small products.
Larger and bulky items (trampolines, spas, slides & most swing sets) will usually be delivered to mainland UK postcodes within 7 - 10 working days.
Next day delivery is NOT available on any of the garden buildings.
Reviews for 12ft Trampoline With Enclosure