14ft Trampoline With Enclosure
The 14ft Trampoline with Enclosure Package gives you complete peace of mind that everyone is safe while they play or exercise in this huge trampoline. The 14ft Trampoline with Enclosure Package is a 4-piece set and includes:
14ft Trampoline
14ft Trampoline Safety Enclosure
Trampoline ladder
14ft Weather Cover
14ft Trampoline Specifications:
Maximum user weight: 100kg (approx. 16 stone)
Diameter: 14ft
Height: 35"
Plus!
5-year warranty on frame from failure due to rust
12 months guarantee on springs, padding & jumping mat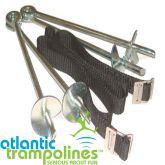 Anchor Kit

£28.80
More Info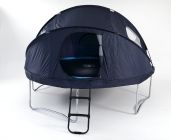 Please note: does not include trampoline

£204.00
More Info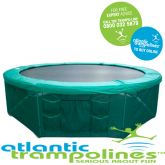 14ft Trampoline Skirt

£63.60
More Info
Huge 14' diameter 'Fun' trampoline (35" in height)
High weight loading, can take adults of up to 100kg (approx 16 stone)
Jumping mat made of A grade Permatron Polypropylene from the United States. UV resistant, sewn with heavy duty UV resistant thread and using galvanized v-rings
88 super strength 165mm zinc plated galvanized springs
Frame tubes - 42mm x 1.5mm (galvanized both inside and out)
Connecting tubes - 42mm x 1.5mm (galvanized both inside and out)
Leg tubes - 38.1mm x 1.5mm (galvanized both inside and out), 4 leg sets
21mm thick 260mm wide double thick weather resistant pvc padding (Top layer Polyester, bottom layer PE) blue in colour
Closed cell foam that does not absorb water or mildew or lose shape
Black jumping mesh
Assembly instruction manual complete with spring assembly tool

Also Includes..
14' mesh Safety-Net Enclosure
Tubes 25mm x 1.5mm galvanized
Designed to retain the maximum jumping area
Pole sleeves are green in colour
And remember – 14ft Trampolines aren't just fun, they are great for fitness too!

As well as having fun while trampolining, Atlantic Trampolines believe that safety should always come first. So when you buy a 14 Foot Trampoline with Enclosure from Atlantic Trampolines, you can be confident in the fact that you are buying a trampoline of the highest possible quality.
If you are not sure that this Trampoline Package is the one for you, you can also buy the 14 Foot Trampoline with Cover and Ladder, or with a great selection of Trampoline Accessories as part of a 14ft Trampoline Ultimate Deal Package.


Don't have room for a 14ft Trampoline? Why not look at our 12ft Trampoline with Enclosure Package?
Still need help deciding which trampoline is right for you? Feel free to give Atlantic Trampolines a call for some FREE expert Trampoline advice: 0800 032 5879
EN-71 approved (British Safety)
RWTUV/GS approved (European Safety Certificate)
Cadmium testing passed
Bungee Trampolining
If you thought trampolining was extreme fun, then wait till you try bungee trampolining. If you thought you could get high on a regular
Trampoline
, then bungee trampolining takes it to the next level. The 'jumper' is fitted with a climbing harness, which is then hooked to a couple of bungee cords. The other end of the bungee cords are fastened to poles that are about 15 feet hight on either side of the Trampoline.
As the jumper jumps on the Trampoline, the bungee cords move up the poles allowing the jumper to go even higher and do more acrobatics than they would be able to do on a regular Trampoline. Bungee Trampolines are extremely popular at fairs and carnivals due to their 'extreme' nature, but like regular
Trampolines
they help your balance, acrobatics and poise. By using a bungee Trampoline, the jumper is capable of jumping up to 9 meters into the air, and perform feats they might not otherwise be capable of, such as flips and front and back somersaults. It is also a great confidence booster too, both for starters and expert 'Trampoliners'.
As a result, many athlete camps use them for training. In fact, bungee Trampolines were devised so that professional athletes could train for the Olympics.
Bungee Trampolines are available to rent or buy from a number of manufacturers all around the world and make for a fun physical activity for all the family. Of course, as with regular trampolining it also benefits the user's health and balance.
We offer FREE next working day delivery (Mon-Fri) on orders recieved by midday to the mainland UK on most of our small products.
Larger and bulky items (trampolines, spas, slides & most swing sets) will usually be delivered to mainland UK postcodes within 7 - 10 working days.
Next day delivery is NOT available on any of the garden buildings.
Reviews for 14ft Trampoline With Enclosure