6ft Replacement Jump Mat
We know that all products eventually succumb to wear and tear, the trampoline mat is no exception, even though the trampoline mat is made from high quality materials, its natural life can come to a premature end by accident.
This product is only suitable for round trampolines with 42 springs with a length of 165mm
The 6ft dimension refers to the overall diameter of the trampoline (taken from the outer frame of the trampoline and not just the jump mat width)
This item is the black mat in the centre and not the blue padding that covers the springs
Unsure if these will be suitable? Please call us on 0800 032 5879 should you have any questions before purchasing.
We always advise that the trampoline jump mat is replaced every 3 years as the material will degrade over time due to UV rays and weather conditions.
Note: To Ensure that you order the correct size please check our measuring guide before ordering.. http://www.atlantictrampolines.co.uk/blog/959/ordering-a-replacement-jump-mat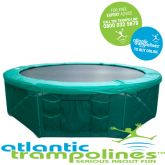 6ft Trampoline Skirt

£44.40
More Info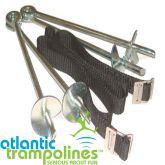 Anchor Kit

£28.80
More Info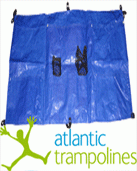 Trampoline Shoe Bag

£22.80
More Info
Jumping mat made of A grade Permatron Polypropylene from the United States.
UV resistant, sewn with heavy duty UV resistant thread and using galvanized v-rings.
The mat is black in colour and has the Atlantic Trampolines logo in the centre.
We offer FREE next day delivery throughout mainland UK.
Reviews for 6ft Replacement Jump Mat