Trampoline Bounce Board
Stoked with features, the Bounce Board has adjustable Velcro® straps and cushioned heel cups hold feet snug even on the tightest tricks. Friction foot pads grip while perfecting old moves or inventing new ones.

This is a new fun game for your trampoline and is great for training skateboard moves(great for grab tricks), kite surfing , snowboarding, water surfing and skiing tricks. Practice "new moves" in your backyard before hitting the slopes. Trampoline tricks are now the trampoline thing!
Measures 830mm wide x 290mm deep x 90mm high
The Board flexes with the trampoline mat, but returns to its orginal shape.

The Bounce Board is Strong and Flexible with Great Shock Absorption, Adjustable Foot Straps with Double Heavy Duty Hook & Loop Velcro Straps.

This product is not recommended for small children.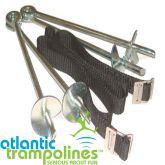 Anchor Kit

£28.80
More Info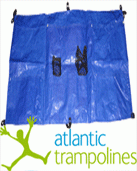 Trampoline Shoe Bag

£22.80
More Info
Weight: 1.6kg Length: 33 Inches Width: 12 Inches Depth: 2 Inches
We offer FREE next working day delivery (Mon-Fri) on orders recieved by midday to the mainland UK on most of our small products.
Larger and bulky items (trampolines, spas, slides & most swing sets) will usually be delivered to mainland UK postcodes within 7 - 10 working days.
Next day delivery is NOT available on any of the garden buildings.
Reviews for Trampoline Bounce Board