Trampoline Anchor Kit
Keep your trampoline from blowing away!
A MUST for windy locations, protect your trampoline with an easy to install anchor kit.
Kit includes 4 straps, D-rings, and stakes

Screw the anchors down flush into ground, and attach the tie down straps.

Fits all sizes of trampolines, however if your trampoline has more than four legs, you will require more than one anchor kit
Please note: An anchor on its own may not be strong enough in extremely open locations and we recommended taking additional steps to secure your trampoline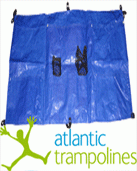 Trampoline Shoe Bag

£22.80
More Info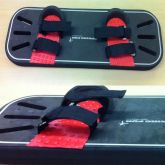 Trampoline Bounce Board

£102.00
More Info
We offer FREE next working day delivery (Mon-Fri) on orders recieved by midday to the mainland UK on most of our small products.
Larger and bulky items (trampolines, spas, slides & most swing sets) will usually be delivered to mainland UK postcodes within 7 - 10 working days.
Next day delivery is NOT available on any of the garden buildings.
Reviews for Trampoline Anchor Kit