Shop by Category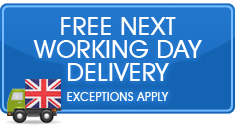 Atlantic Trampolines Latest Twitter Updates
For future use, we sell anchor kits on our website: https://t.co/4FI2NBVUxG Stay safe!

⚠️WEATHER UPDATE⚠️ With strong winds forecast for parts of the UK this weekend, make sure you secure your garden… https://t.co/a7mRaI0WwE

If you don't have an enclosure or you need a replacement, we sell replacement parts for all our trampolines! Click… https://t.co/ksfGuuohNX

⚠️SAFETY TIP #1: Trampoline Enclosures⚠️ When using a #trampoline, it's crucial that a safety enclosure is used t… https://t.co/tKASZaNefO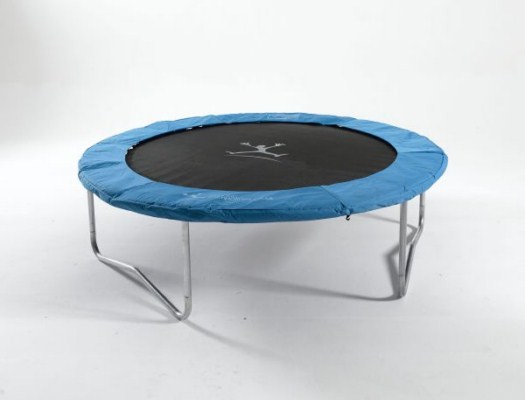 8ft Trampoline, Cover & Ladder

£144.98 FREE UK MAINLAND DELIVERY
Sorry Sold Out
The 8 Foot Trampoline comes standard with a Trampoline Ladder and an 8 Foot Trampoline cover, plus we delivery FREE throughout mainland UK.

The 8 Foot Trampoline is perfect for both children and adults.
The 8 Foot Trampoline specification:

-

8 Foot Trampoline diameter

-

Takes up to 100kg in weight

The 8 Foot Trampoline includes the following products:

-

8 Foot Trampoline weather cover

-

Trampoline access ladder

- Anchor Kit

Plus!
5 year warranty on frame from failure due to rust
12 month guarantee on springs, padding & jumping mat.
We offer FREE next working day delivery in the UK and an installation service is available for customers within 20 miles of our Pembroke Dock warehouse.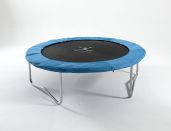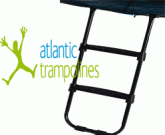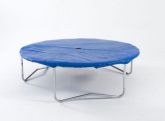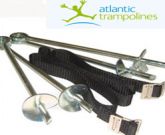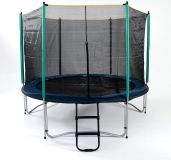 8ft Safety Enclosure (Does not Include Trampoline or Ladder)

£72.98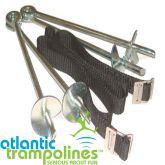 Anchor Kit

£21.98
Huge 8' diameter 'Fun' trampoline (26" in height)
High weight loading, can take adults of up to 100kg (approx 16 stone)
Jumping mat made of A grade Permatron Polypropylene from the United States. UV resistant, sewn with heavy duty UV resistant thread and using galvanized v-rings
48 super strength 165mm zinc plated galvanized springs
Frame tubes - 38mm x 1.5mm (galvanized both inside and out)
Connecting tubes - 38mm x 1.5mm (galvanized both inside and out)
Leg tubes - 38.1mm x 1.5mm (galvanized both inside and out), 3 leg sets
12mm thick 260mm wide double thick weather resistant pvc padding (Top layer Polyester, bottom layer PE) blue in colour.
Closed cell foam that does not absorb water or mildew or lose shape
Black jumping mesh
Assembly instruction manual complete with spring assembly tool
Still need help deciding which 8 Foot Trampoline is right for you? Call us now for FREE expert advice: 0800 032 5879
Safety & Certificates:
* EN-71 approved (British Safety)
* RWTUV/GS approved (European Safety Certificate)
* Cadmium testing passed
8 Foot Trampolines can be enjoyed by both adults for fitness and children for play.
Trampolines come in a number of different sizes, which size you choose can depend on a number of factors – Who's going to be using the trampoline? What the trampoline is going to be used for? Size of the garden? We can provide advice helping you to choose the right trampoline size, as well as advice about maintaining your 8 Foot Trampoline. Call our Trampo-Line 0800 032 5879.
We stock trampolines across 7 different sizes -
6ft Trampolines, 8ft Trampolines, 10ft Trampolines, 12ft Trampolines, 13ft Trampolines, 14ft Trampolines and 15ft Trampolines.
We also stock 8ft Trampolines with all the trampoline extras – the complete package! Trampolines with enclosures, trampoline ladders, weather covers.
Atlantic Trampolines also sell any parts and accessories that fit most trampoline brands and trampoline sizes.
DID YOU KNOW?
Losing weight with Trampolines
Not only are
Trampolines
a fantastic way to keep fit, but they can be key in helping people lose weight. At a time when obesity rates are at their highest and there is a concerted national effort to improve fitness, trampolining holds enormous potential to help people shift unwanted pounds.
Whereas people might assume an exercise like swimming or running will help them lose the most weight, research has found that using a
Trampoline
for 30 minutes will burn more calories than if you did the other exercises for the same amount of time.
Not only does it improve cardio fitness, but it exercises every muscle group in your body, especially those that you may not regularly use.
Trampolines are also becoming more popular with women looking to lose weight after child birth, and it is no surprise to learn why. Not only does it improve your metabolism, increase your oxygen capacity and reduce fat, but it firms all your muscles giving your body a more toned feel.
We offer FREE next working day delivery(Mon-Fri) on orders recieved by midday to the mainland UK for most of our products and a paid trampoline installation service is available for customers within 20 miles of our Pembroke Dock warehouse. We are unable to give a designated time of delivery and deliveries can be anytime between 8am and 6pm.
Reviews for 8ft Trampoline, Cover & Ladder
 How would you like the chance to win a family voucher to spend a day at a Go Ape! high-wire forest adventure?
 Every month we are giving away a family voucher for two adults and two children to use at any Go Ape! Adventure throughout the UK. All you need to do is return the feedback form that comes with your trampoline, FREE of charge. We will be picking out a card at random at the end of every month. For more information on Go Ape! and your nearest centre, please visit www.goape.co.uk